About Katherine
Katherine Barkman is an American ballerina who is currently a soloist with the San Francisco Ballet and an international guest artist.
Previous to her current appointment, Katherine spent four seasons dancing principal roles with The Washington Ballet and three years as principal dancer of Ballet Manila.
Upon debuting in the full-length production of The Sleeping Beauty at the Kennedy Center in 2019, Pulitzer Prize-winning dance critic and author, Sarah Kaufman, wrote about Katherine in the Washington Post:
  "Barkman… is a jewel of a ballerina, with her pure, effortless technique and easy charm. It's said that when the great British ballerina Margot Fonteyn danced Aurora in New York in 1949, leading the modest yet spunky precursor to the Royal Ballet, she solidified the entire reputation of English ballet with her miraculous balances. Without drawing a direct comparison to that moment and that legend, let's just say that Barkman is similarly dark-eyed and petite, with a clean, classical line to her body. But most of all it is her ebullient warmth, buoyed by fluid skill and an utter absence of affectation, that brings greatness to mind."
 Regarded as one of the rising stars and role models of her generation, Katherine Barkman has been widely praised for her impeccable technique, effortless buoyancy, remarkable balances, and the creative passion which she munificently infuses into every role she portrays onstage.
She is known to approach her roles with natural curiosity and thoughtful attention to details. She examines her characters deeply and finds ways to connect with them from a different perspective, enabling her to offer a fresh take on her ballet characters – including those that have been performed for centuries.
While equally adept in both classical and contemporary choreographies, Katherine aspires to retain the timeless elegance and artistry of ballet, to uphold the legacy of knowledge that has been passed down by her own mentors, and to help younger dancers cultivate a mindset dedicated to growth and resilience.
An exceptional ballerina with an extraordinary story.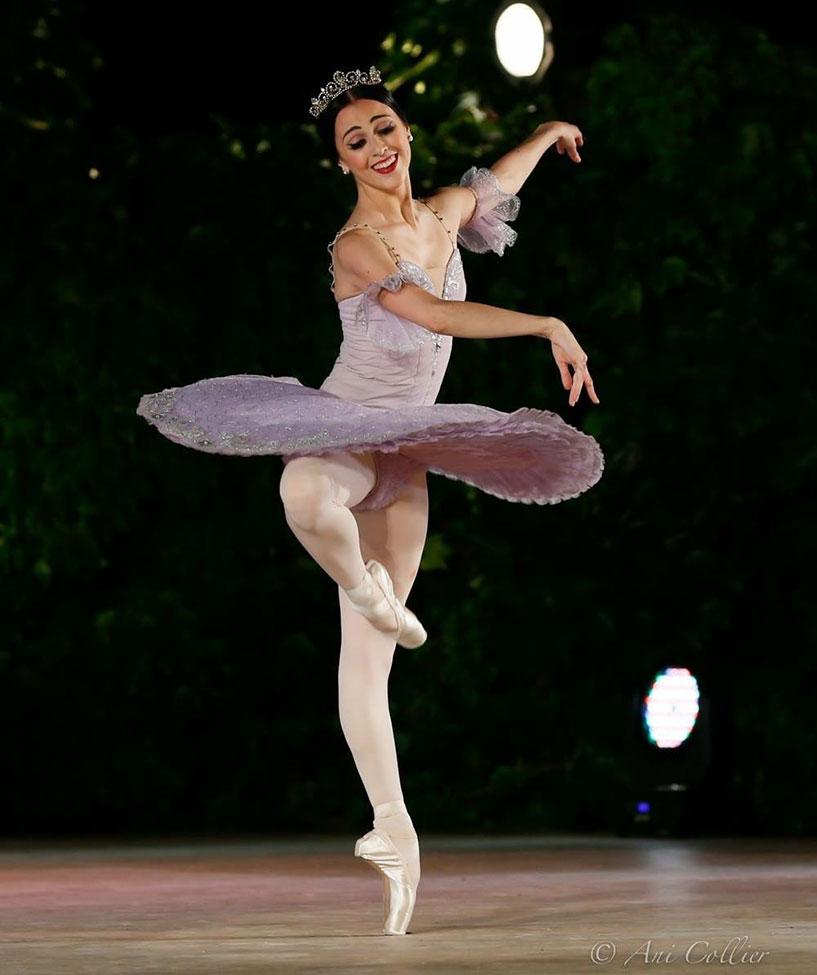 Ballet Training
At age 14, driven by her fervent dream to become a professional ballerina, Katherine began four years of intensive private training in the Vaganova technique under US-based Russian teacher, Nadia Pavlenko, a graduate of the Vaganova Academy of Russian Ballet in St. Petersburg.
Subsequently, while dancing in the Philippines at the start of her professional career, she continued her rigorous training under the mentorship of Filipino prima ballerina and artistic director, Lisa Macuja-Elizalde, a former soloist of the prestigious Kirov (now Mariinsky) Ballet.
In the succeeding years, Katherine has had the opportunity to receive coaching and instruction from several luminaries of the ballet world, including Julie Kent, Victor Barbee, Ruben Martin, Rinat Imaev, Xiomara Reyes, Elaine Kudo, Sofiane Sylve, Darla Hoover, Christopher Carr, Mimi Paul, and Patricia McBride, Jurgita Dronina, Vanessa Zahorian, Davit Karapetyan, Jose Carreño, and Leanne Benjamin.
Katherine values the importance of professional instruction and continues to learn from various ballet teachers with unique areas of expertise.
Professional Career
Soon after completing her ballet training in the US, Katherine made the pivotal decision to move to the Philippines in 2015 and begin her professional career as a principal dancer with Ballet Manila, one of the most eminent classical ballet companies in Asia. At 18, she was the youngest artist to assume this position with the company.
She joined The Washington Ballet in 2018, soon after winning consecutive Silver Medals from two of the world's most prestigious ballet Olympiads — the XI USA International Ballet Competition in Jackson, Mississippi, and the XXVIII Varna International Ballet Competition in Bulgaria.
In 2022, right before his retirement, artistic director Helgi Tómasson appointed Katherine as soloist of the San Francisco Ballet.
As a professional ballerina, Katherine has debuted in the classical roles of Odette/ Odile in Swan Lake, Kitri in Don Quixote, Giselle in Giselle, Aurora in The Sleeping Beauty, Juliet in Romeo and Juliet, Nikiya in La Bayadere, Medora in Le Corsaire, Swanilda in Coppelia, as well as the Sugar Plum Fairy and the Snow Queen in The Nutcracker.
She has also performed the principal lead in popular masterpieces such as Grand Pas Classique, The Dying Swan, Paquita, Raymonda, Esmeralda, Satanella, Balanchine's Tarantella and Allegro Brilliante, as well as Sir Frederick Ashton's Birthday Offering and Meditation on Thais.
While noted for her excellence as a classical ballerina, Katherine is also a versatile dancer who has performed in the world premiere of contemporary choreographies.
Katherine's detailed repertoire
Major Awards and Competitions
| | |
| --- | --- |
| 2018 | Silver Medal (Senior Women's Division) Varna International Ballet Competition, Varna, Bulgaria |
| 2018 | Silver Medal (Senior Women's Division) USA International Ballet Competition, Jackson, MS, USA |
| 2015 | Grand Prix Asian Grand Prix, Hong Kong |
| 2015 | Gold Medal Valentina Kozlova International Ballet Competition, NO, USA |
| 2015 | Gold Medal TANZOLYMP Festival, Berlin, Germany |
Additionally, owing to her sterling record both as a competitor and as a professional ballerina, Katherine was invited to sit as the youngest member of the Jury for the inaugural 2019 National Ballet Competition in Wilmington, Delaware, USA.
For her complete list of prizes and and recognitions click here.
Guest Performances
As an international guest principal, Katherine has performed in several festivals, galas, and full-length productions in Russia, Latvia, Australia, Canada, Spain, Argentina, Paraguay, Costa Rica, Hong Kong, the Philippines, as well as in major cities across the United States.
Her updated list of guest performances.
Sponsorships and Endorsements
Katherine's gift for inspiring young ballerinas and dance artists has caught the attention of premium international brands for dance and active wear, with whom she has formed an artistic alliance in support of high-quality, ethically produced ballet apparel.
She is currently a Role Model for Zarely the world's first high-fashion activewear brand, which recently launched a new laser-cut collection named after her.
Similarly, she is a Principal Artist of Virtisse, a global designer and manufacturer of pointe shoes, combining centuries-old traditions with cutting-edge technology.
Katherine has also collaborated with fashion designers and brands such as Senreve, Ellen Wise Couture, and Goldstories.